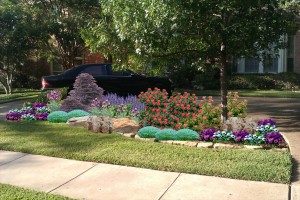 Hello and thank you for visiting our Landscape Design Page
Dallas Curb Appeal takes a different approach to landscape design. We feel that the customer should have as much input and information as possible to make their landscape design decisions. Don't expect us to scribble on graph paper and figure on planting a bunch of Nandinas and Mondo grass everywhere, after only spending 10 minutes talking to you – that's just not how we work. Every homeowner is different and every landscape is different. We do charge for our designs services but will deduct the cost from your final invoice if we install your project.
Design consultations may take up to an hour or more and revisions will be done for free prior to installation (up to 2). This takes time, effort and resources that we just can't give away. We know you can find companies or individuals that will do your design estimates on the spot for free – and that every dollar counts, but most of the time you get what you pay for, especially when you pay nothing. Although our designs are not initially free the cost of the design will be deducted from your invoice should you decide to have Dallas Curb Appeal install your project.
Dallas Curb Appeal is a full service Landscape Contractor, what that means is that we provide a variety of outdoor services to compliment your landscape installation project. When creating designs we consider not only the landscape but also the irrigation, drainage, stone work, lighting and other future considerations, such as additional beds, arbors, hardscapes etc. Your landscaping is a great investment and getting it planted is only the beginning.
Before your consultation it is helpful but not necessary to have as much information as possible, such as the following:
Likes and dislikes: Some people hate orange while others hate grasses. Everyone has their preferences and letting your designer know what you hate is just as important as what you love. A landscape can be done 100 different ways and we need your input to narrow the options.
Sun exposure: It's pretty obvious which direction  your home is facing but what's not so obvious is what the light is "really" like throughout the day. Obstructions like houses, trees and reflective surfaces can affect your sun/shade exposure. Getting as much information about the lighting in the area to be installed is extremely helpful.
Field Conditions: Knowledge of hard rock, gutter, sprinkler or drainage issues can really help in creating a design that can not only add to your curb appeal but address those issues in the process. Often time sprinklers and drainage issues can wreak havoc on you landscape but may not be visible to the designer at the time of your consultation.
Survey: A copy of your survey is needed to create your design. You can have it on hand, at your consultation or you can email to Sales@DallasCurbAppeal.com.  Your survey or plot plan can usually be found in the closing papers for your home.
Call to schedule your appointment today at 214-257-8155 and let us help you bring your vision to life.