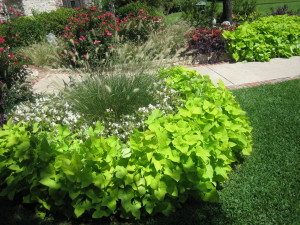 Inspiration can be found around the world or just around the corner. Our designers will translate your dreams into reality, and help you Love Where You Live.
Your home is one of your biggest investments in your future. Enhancing your Curb Appeal not only adds value to your home, but it changes the look and feel of it. It can take your backyard from a place your kids run through into a place they never want to leave.
Whether you want to spruce up your existing landscape or need help with a blank slate. We can help you take your project from concept to completion. With Dallas Curb Appeal you don't just get great service, you get a great value.
There are many options to consider when you start the budgeting and designing process. We can help you navigate through the maze of plants, pavers, and ponds. Our goal is to educate our clients on the options available in today's market, and help them meet there budget goals.
We hold licenses and certifications in many areas of landscaping and irrigation, and are members of several trade organizations, which keep us up-to-date on the latest in home trends and environmentally responsible products; such as LED lighting, rain water harvesting, and permeable pavers.
At Dallas Curb Appeal our mission is to offer our customers Quality Products, Quality Installations and Quality Service Call 214-257-8155 today and find out how we can help you
Love Where You Live